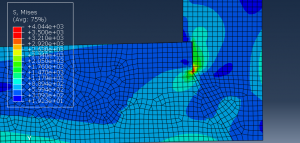 A new method for the assessment of the structural stress: Dong's Method
The engineering world never stop to progress and keep it up is a MUST!
Using the Dong's structural stress approach also called structural stress linearization, is possible to study the weld root fatigue, that really often is the cause of unexpected failure of weldings, in the structural design field. This kind of fatigue is not possible to analyze with most common methods.
For more information please download the brochure and contact our sales dept for a proposal.